Complex Drug Delivery System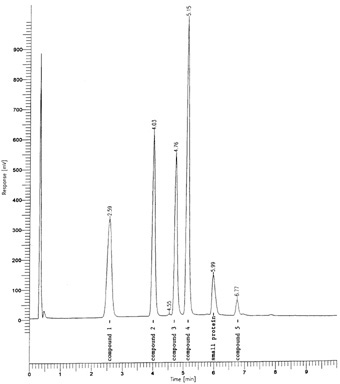 This novel drug delivery system contains a small protein and other components that span an order of magnitude in molecular weight. All the compounds of interest were easily resolved in a single analysiswith a fast linear gradient on a HAISIL 300 C18 5mm column.
Method:
Column: HAISIL 300 C18 5µm 50x4.6mm
Mobile Phase A: CH3CN:H2O:TFA200:800:1
Mobile Phase B: CH3CN:H2O:TFA 500:500:1
Gradient: 0-100%B, 7 minutes
Wavelength: 214 nm
Flow Rate: 2mL/min
Compound Average Molecular Weight: 300D
Small Protein Molecular Weight: Approximately 3000D
Courtesy of Elizabeth Harris, Emisphere Technologies, Inc., Hawthorne, NY.
---
Applications
© 1998 - 2021 Higgins Analytical, Inc. (23June98) rev 4/29/00